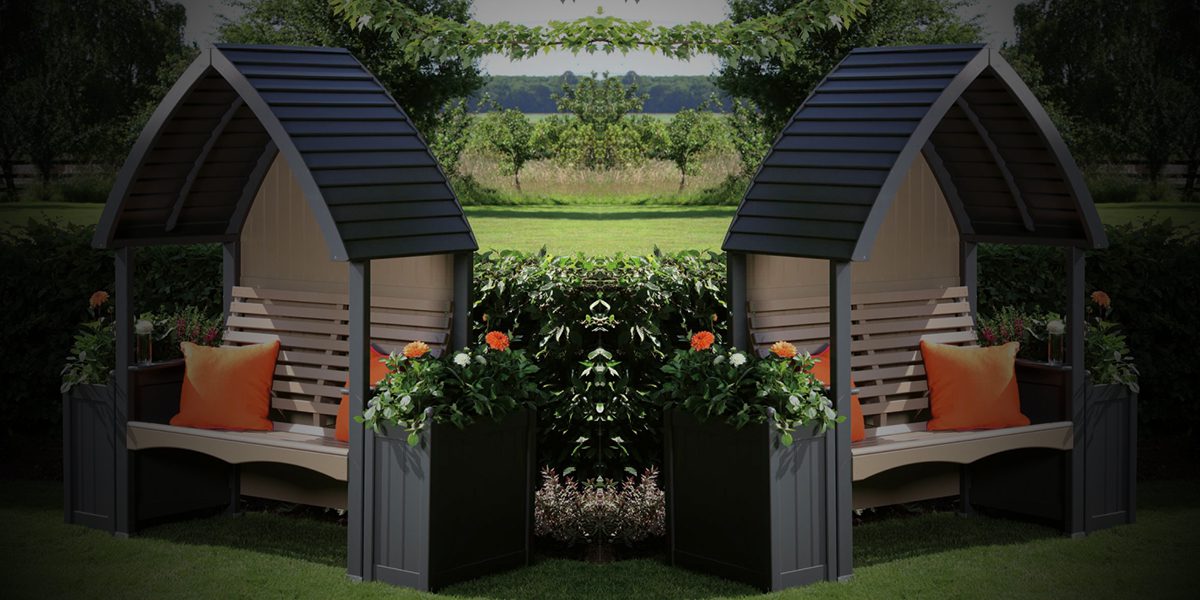 Garden Arbours
Outdoor Garden Arbours available from Shackletons Home and Garden. Welcome to Shackletons Home and Garden, your ultimate destination for outdoor garden arbours. Transform your garden into a serene and inviting space with our carefully curated collection of arbours that blend style, functionality, and durability. Whether you're seeking a cosy nook for relaxation, a stunning focal point, or a charming spot to entertain guests, our range of outdoor garden arbours has something to suit every taste and budget.
Showing 1–16 of 22 results
The arbour's wooden framework provides an excellent opportunity for training plants and trees to climb and create a lush, natural display. Alternatively, if you prefer a more untouched look, the arbour stands beautifully on its own, blending into any garden corner with its elegant design. Whichever option you choose, the arbour adds a touch of charm and tranquility to your outdoor space, creating a welcoming retreat for relaxation and enjoyment.
At Shackletons Home and Garden, we understand the importance of creating an outdoor space that reflects your unique personality and enhances your lifestyle. That's why we offer an extensive selection of garden arbours crafted from high-quality materials that withstand the elements and stand the test of time. Our commitment to quality ensures that you can enjoy your arbour for years to come, making it a cherished addition to your outdoor oasis.
Browse through our product categories to discover the perfect arbour for your garden. From classic wooden designs to more contemporary colour schemes, we have a diverse range of options to cater to various aesthetics. Our wooden arbours exude warmth and character, creating a rustic and inviting ambiance.
Each arbour in our collection is designed with both comfort and style in mind to create the ideal seating arrangement for your garden.
At Shackletons, we strive to provide an exceptional shopping experience. Our user-friendly website allows you to explore our collection effortlessly, with detailed product descriptions and high-resolution images to help you make informed choices. We also offer convenient and secure online ordering, with prompt delivery to your doorstep.
Many of our Garden  Arbours feature beautiful designs with slatted backrest and sides, giving them a classic cottage feel. The contrasting Charcoal and Nutmeg finish of the Cottage Arbour adds a touch of elegance and sophistication to any outdoor setting. Whether you have a traditional or contemporary garden, this arbour effortlessly blends in with its surroundings.
Crafted from high-quality timber, the Arbours are built to withstand the elements and provide long-lasting durability. The timber used is responsibly sourced and treated for enhanced resistance against rot and decay, ensuring that they remain sturdy and attractive for years to come.
One of the standout features of our arbours is the comfortable seating area. The curved bench seats offer ample space for two people to relax and enjoy the outdoors. Whether you want to unwind with a book, have a quiet conversation, or simply take in the beauty of nature, these arbours provide a cosy and peaceful spot to do so.
Another great aspect of the Arbours is their versatility. They can be placed in various outdoor settings, such as a patio, garden, or even a balcony. The compact sizes make them suitable for smaller spaces while still providing a comfortable seating experience.
The wooden framework of the arbour provides a perfect opportunity for you to train plants and trees to climb and intertwine, creating a stunning natural display. Whether you choose vibrant flowering vines or lush, leafy climbers, the arbour offers a sturdy structure for them to grow and flourish.
Training plants to climb the arbour can be a rewarding and creative gardening project. You can guide the tendrils and stems along the wooden framework, encouraging them to spread and cover the structure. Over time, the plants will weave their way around the arbour, forming a beautiful living canopy that adds depth and texture to your outdoor space.
Imagine sitting inside the arbour, surrounded by cascading blooms or verdant foliage. The intertwining plants not only enhance the aesthetics but also provide shade and privacy, creating a tranquil retreat in your garden. The arbour becomes a living sanctuary where you can enjoy the sights and scents of nature.
However, if you prefer to leave the arbour in its natural state, it still holds its own beauty. The wooden framework, with its charming, slatted design and contrasting finish, adds an elegant touch to any corner of your garden. The simplicity of the arbour allows it to blend seamlessly with the surrounding landscape, becoming a focal point without overpowering the overall aesthetics.
By leaving the arbour untouched, you can appreciate the natural grain and texture of the timber. Over time, the wood may develop a weathered patina, adding character and charm to the structure. This au naturel look can complement various garden styles, from rustic cottage gardens to more modern and minimalist landscapes.
Whether you choose to train plants to climb the arbour or leave it as it is, this versatile structure is sure to make a statement in your garden. Its wooden framework offers endless possibilities for creative landscaping, allowing you to personalise your outdoor space according to your preferences.
Assembly of the arbours is straightforward, thanks to the clear instructions provided with the products. With minimal effort, you can have it set up and ready for use in no time. They also come with all the necessary fittings and fixtures to ensure a secure and stable structure.
These Arbours are a charming and versatile outdoor seating option. With their classic design, durable construction, and comfortable seating area, they offer a relaxing and stylish addition to any garden or outdoor space. Whether you want to create a cosy nook or enhance your existing outdoor setting, these arbours are sure to add a touch of elegance and tranquility to your surroundings.
Invest in the beauty and functionality of an outdoor garden arbour from Shackletons and create an enchanting space that inspires relaxation, connection, and joyful moments. Explore our product categories today and discover the perfect arbour to elevate your outdoor living experience.