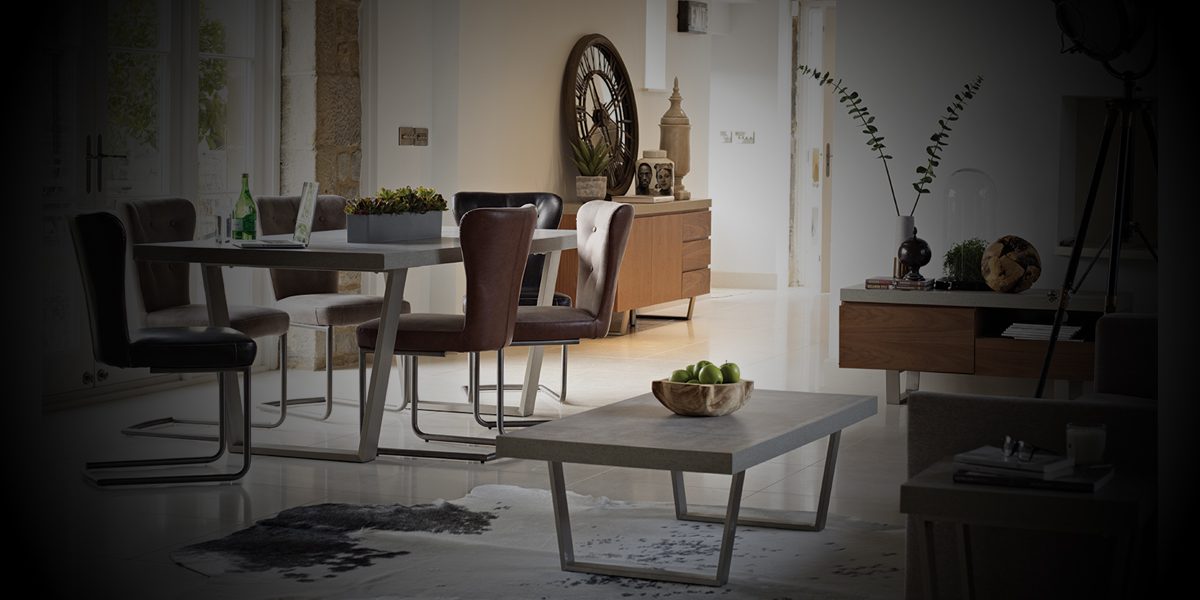 Baker Furniture Petra
Welcome to Shackletons Home and Garden, where we bring you the stunning Baker Furniture Petra Collection. This exceptional range is distinguished by its distinctly minimalistic design, featuring brushed stainless steel, walnut veneer detailing, and striking imitation concrete surfaces that evoke the spirit of a bygone era. With its simplicity and honesty, the Petra collection exudes a dignified character that is sure to enhance the aesthetics of any home.
Baker Furniture Petra Collection: An Exquisite Blend of Minimalism and Durability
The Petra collection's neutral palette provides the perfect backdrop for colourful contrasting accessories and potent décor pairings. Whether you prefer bold and vibrant accents or subtle and sophisticated tones, the versatility of this collection allows you to create a personalised space that reflects your unique style and personality. The clean lines and uncluttered design of the pieces provide an elegant and timeless appeal that seamlessly integrates into various interior styles.
Built to last
One of the notable features of the Petra collection is its durable construction. Just like the hardened workers who fuelled the industrial revolution, the collection's imitation concrete surfaces are designed to withstand the daily trials of the modern home. These surfaces are scratch-resistant, heat-resistant, and non-porous, ensuring their longevity and robustness. With the Petra collection, you can have peace of mind knowing that your furniture will maintain its pristine appearance for years to come, even in high-traffic areas.
In addition to its durability, the Petra collection also offers exceptional functionality. The carefully crafted brushed stainless-steel frames provide stability and strength, whilst the walnut veneer detailing adds warmth and sophistication to the overall design. Each piece is meticulously designed to optimise comfort, ensuring that you can relax and enjoy your living spaces to the fullest.
Reputable supplier
When you choose Shackletons Home and Garden as your trusted furniture retailer, you are not just purchasing exquisite pieces from the Baker Furniture Petra Collection; you are also benefiting from our years of expertise and commitment to customer satisfaction. Our dedicated team of professionals is passionate about assisting you in finding the perfect furniture to suit your individual needs and preferences. We provide personalised recommendations and guidance throughout your shopping experience, ensuring that you make an informed decision and create a home environment that you will love.
At Shackletons Home and Garden, we understand the importance of convenience in the modern world. That's why we offer a seamless online shopping experience that allows you to explore the Baker Furniture Petra Collection from the comfort of your own home. Our user-friendly website provides detailed product descriptions, images, and dimensions, giving you a comprehensive understanding of each piece before making a purchase. With just a few clicks, you can order your favourite items and have them delivered directly to your doorstep.
As a responsible retailer, Shackletons Home and Garden is committed to promoting sustainability in the furniture industry. The Baker Furniture Petra Collection reflects this commitment by utilising eco-friendly materials and production processes. We believe in creating beautiful spaces whilst minimising our impact on the environment, allowing you to enjoy your furniture guilt-free.
Shop now at Shackletons
In conclusion, the Baker Furniture Petra Collection available at Shackletons Home and Garden offers a harmonious blend of minimalistic design and exceptional durability. With its brushed stainless steel, walnut veneer detailing, and striking imitation concrete surfaces, this collection is sure to elevate the ambience of your home. By choosing Shackletons Home and Garden, you are choosing a trusted retailer that is dedicated to providing superior customer service and sustainable solutions. Explore the Baker Furniture Petra Collection today and discover how it can transform your home into a haven of style and durability.