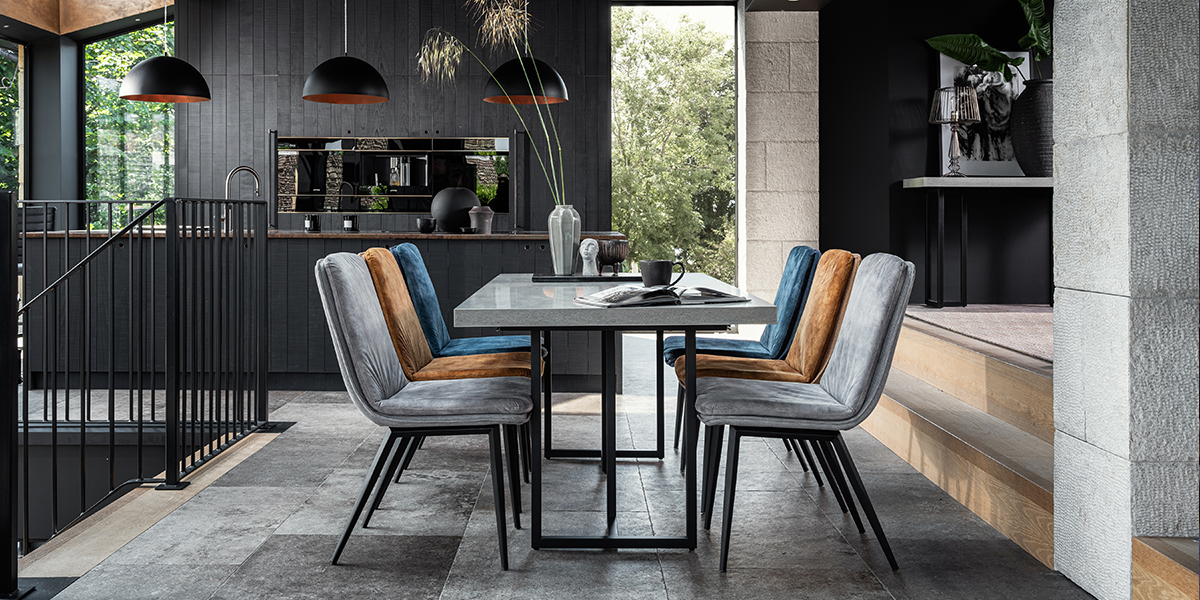 Baker Furniture Chair Collection
Fine Dining with Style and Comfort. Welcome to Shackletons, where we proudly present the exquisite Baker Furniture Dining Chair Collection. This delightful range of dining chairs offers an eclectic mix of seating styles that perfectly complement your unique character. Whether you prefer sleek contemporary designs or traditional dining chairs, Baker Furniture has a wide selection of high-quality dining chair options that will undoubtedly impress your guests. Discover the perfect fit for your dining space today and elevate your dining experience to new heights.
Showing 1–16 of 31 results
Baker Furniture Dining Chair Collection
The Baker Furniture Dining Chair Collection is designed to combine style, comfort, and exceptional craftsmanship. Each chair is meticulously crafted using the finest materials and boasts impeccable attention to detail. From the moment you take a seat, you'll experience the luxurious comfort that these dining chairs provide, ensuring an enjoyable and memorable dining experience for you and your guests.
With an extensive range of styles, materials, and colours available, you can easily find the perfect dining chair that aligns with your personal taste and complements your existing decor. Whether you desire a sleek and minimalist design, a classic and timeless aesthetic, or a bold and contemporary statement dining set, Baker Furniture offers a diverse array of options to suit every preference.
For those who appreciate modern sophistication, the dining chair collection features sleek contemporary chairs that exude elegance and minimalism. These dining chairs showcase clean lines, smooth curves, and luxurious upholstery, creating a refined and stylish ambiance in your dining space. If you prefer a more traditional look, Baker Furniture also offers a selection of dining chairs that embrace timeless designs, showcasing intricate details, rich finishes, and ornate accents. These chairs evoke a sense of nostalgia and create a warm and inviting atmosphere for family and friends to gather around the table.
When it comes to creating a remarkable dining experience, the importance of choosing the right furniture cannot be overstated. Enter Baker dining chairs, a brand that epitomises excellence in design, functionality, and comfort. With their extensive collection that celebrates a wide range of seating options, including bar stools, dining benches, and everything in between, Baker invites you to explore a world of possibilities for your dining space.
At the heart of the Baker dining chair collection lies cutting-edge design. Renowned designers pour their creativity and expertise into each piece, ensuring that every chair is carefully considered and thought out. The result? A stunning range of dining chairs that exude elegance and sophistication, setting them apart from the rest.
However, Baker understands that exceptional design alone is not enough to create a truly extraordinary dining experience. That's why every chair in their collection is not only visually stunning but also ergonomically designed with your comfort in mind. Baker prioritises the well-being of their customers, making sure that each chair provides optimal support and enhances your posture while you dine. So, rest assured that you can enjoy your meals in style and comfort, with the peace of mind that Baker dining chairs offer.
With such a vast array of choices available, Baker guarantees that you will find the perfect finishing touch for your dining space. Whether you're looking for a statement piece that steals the spotlight or a more subtle addition that seamlessly blends into your existing decor, Baker has you covered. Their collection boasts an extensive selection of materials, colours, and designs, allowing you to personalise your dining area to reflect your unique style and preferences.
From luxurious upholstered chairs that exude opulence to sleek and minimalistic designs that embody modern sophistication, Baker offers endless options to satisfy every taste and complement any interior aesthetic. Their commitment to providing unparalleled variety ensures that you can effortlessly find the ideal dining chair to complete your space.
Immerse yourself in the world of Baker dining chairs and elevate your dining experience to new heights. Embrace the versatility, cutting-edge design, and paramount comfort that define their collection. With Baker, you can rest assured that every meal shared with loved ones will be both stylish and comfortable, creating memories that will last a lifetime. Explore the exceptional range of Baker dining chairs today and discover the perfect seating solution that perfectly suits your needs and desires.
At Shackletons, we understand that choosing the perfect dining chairs is an important decision, which is why we invite you to visit our showroom here in the heart of the Ribble Valley. Our showroom provides a unique opportunity for you to see, feel, and touch a broad range of dining chairs first-hand. Our knowledgeable staff is available to assist you, providing expert advice and recommendations to help you make the best choice for your dining space. Experience the comfort and quality of Baker Furniture dining chairs in person and make an informed decision that perfectly suits your needs.
In addition to our showroom experience, we also offer convenient delivery across the UK. No matter where you reside, you can enjoy the convenience of having your chosen Baker Furniture dining chairs delivered directly to your doorstep. Our reliable and efficient delivery service ensures that your furniture arrives safely and on time, allowing you to start enjoying your new dining chairs without any hassle.
At Shackletons, we are committed to providing exceptional value to our customers. We understand that affordability is an important consideration, which is why we strive to offer competitive prices without compromising on quality. When you choose Shackletons when purchasing dining chairs, you can have confidence in knowing that you are getting the best value for your investment. Our commitment to superior customer service and competitive pricing sets us apart as a trusted retailer.
The Baker Furniture Dining Chair Collection available at Shackletons offers a diverse range of seating options that combine style, comfort, and exceptional quality. Whether you prefer sleek contemporary designs or traditional dining chairs, you can find the perfect fit for your dining space within this exquisite collection. Visit our showroom to experience the beauty and comfort of Baker Furniture chairs first-hand or take advantage of our convenient UK-wide delivery service. At Shackletons, we are dedicated to providing exceptional value and unparalleled customer service. Elevate your dining experience with the Baker Furniture Chair Collection and create a dining space that reflects your unique style and invites unforgettable moments with loved ones.