The Bowmore is an excellent solution for a fabric sofa. Introducing Harris Tweed, the only fabric in the world governed and protected by its own Act of Parliament. Made by incredibly talented weavers from the Island of Lewis, Uist, Barra and Harris, which is in the outer Hebrides. They use the finest pure virgin wool in a traditional process to to create a stunning weave that will  last a life time.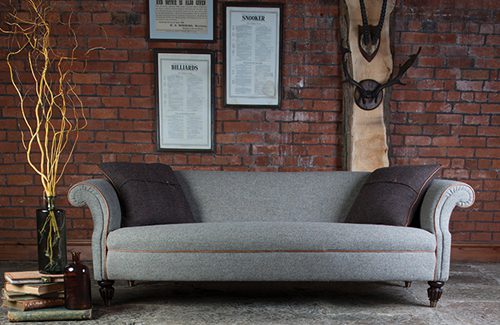 With the added bonus of being easy to clean and the ability to retain heat in winter or keep cool during those special summer days. The quality of this collection is unmatched as it includes a fully coil sprung sofa base with a super-loop sprung back that is created from a hardwood frame that is glued, screwed and dowelled to ensure strength and durability. The deep seated cushions  provide comfort that the upcoming winter months need and the antiqued brass ferrules complete this Edwardian style sofa and brings elegance to any living area.

With various fabrics to choose from you will most defiantly be able to find your perfect sofa. So check out www.shackletonsonline.co.uk for the full Bowmore range and see the amazing finance options available.